Happier fans.
Instant notifications.
No downloading necessary.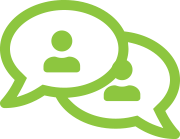 Send push notifications in 3 seconds or less with a 95%+ Correct Response Rate.
Send push notifications for merchandise or ticket level offers, event announcements, and emergency messages.
Identify each user, including VIPs, and get them the exact information they need.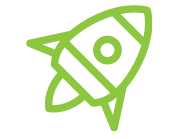 Our A.I. Chatbot acts as your hardest-working team member, answering attendee questions 24/7/365.
Our suite of enhanced services includes: Artist search and line-up, Fan profile and preferences, Feedback and polling, and more!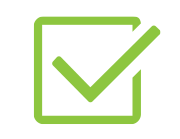 Reach fans where they already are—their cellphones—through SMS text, web messaging, and other channels.
No downloads. No scrolling or clicking. If your attendee has a cell phone, they can use an A.I. Chatbot.
Put answers right at attendees' fingertips:
When do gates open?
Where is the main stage?
What am I allowed to bring in?

Our A.I. Chatbots can answer these questions and hundreds more over text. It's a simple, intuitive and powerful solution.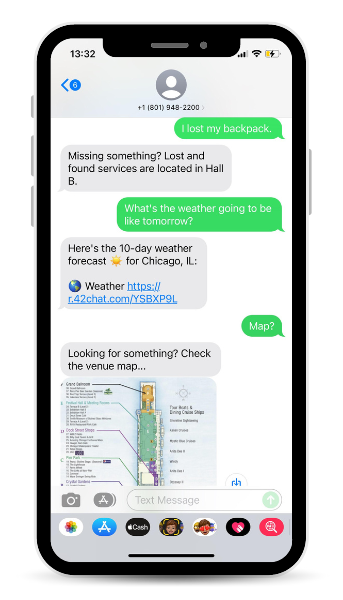 Choose the Festival Chatbot that best meets your event's needs
FestivalBot
Perfect for 3-10k attendees, single or two events
One-Two Days

10,000 attendees

47 topics

SMS

Support

Location Information

FAQ

About
Program
Agenda

Food

Bathrooms / Showers

Activities

Security

Vendors

Sponsors
Features
Basic Fan Profile

Line Up Link
FestivalBot+
Add a website bot and serve even more attendees
Multiple Days

50,000+ attendees

50 topics

SMS

Web

Support

Location Information

FAQ

About
Program
Agenda

Food

Bathrooms / Showers

Activities

Security

Vendors

Sponsors

"Three Free" extra topics
Features
Premium Attendee Profile

Line Up Search