A.I. Chatbots enable you to deliver a personalized commencement experience, driving greater brand engagement and connection.
GradBot can answer graduate or guest questions, whether you have one commencement ceremony in a single venue or multiple ceremonies across multiple locations.
No apps to download, passwords to remember or endless searching for answers. Simply text GradBot and get an answer in 3 seconds or less.
GradBot can send push notifications for just-in-time commencement announcements for graduates and guests alike—including emergency notifications if needed.
Answer graduates & guest's questions immediately:
Are tickets required? Will there be a rehearsal? How do I order my cap and gown? Where do I go for processional line-up?
GradBot helps graduates get the answers they need to their specific questions instantly over text.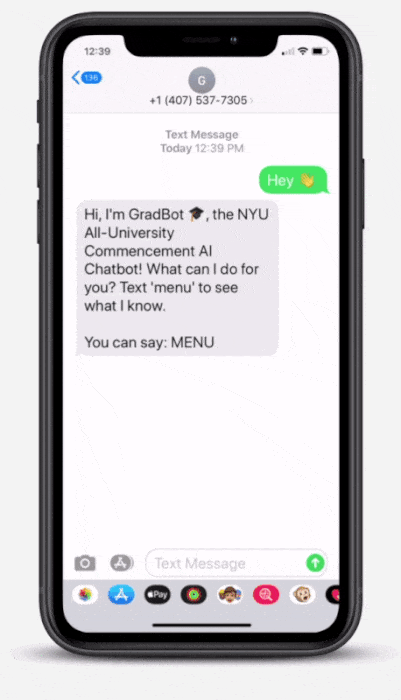 Choose the GradBot that best meets your event's needs
GradBot
Perfect for smaller, multi-day events
One Day

100 attendees

31 topics

SMS

Support

Location Information

FAQ

About
Program
Agenda

Date & Time

Food

Speakers List

School Ceremonies
Networking Features
GradBot+
Add a website bot and serve even more attendees
One Day

2,500 attendees

48 topics

SMS

Web

Support

Location Information

FAQ

About
Program
Agenda

Date & Time

Food

Speakers List

School Ceremonies

Schedule Items
Networking Features
Basic Graduate Profile

Graduate Search
"GradBot did a great job of quickly and consistently answering the many different kinds of questions our guests had in a form they are already comfortable with—text. We can't wait to expand on how the bot can help make our next commencement even better this coming year."
Director of University Events NYU